Frequently Asked Questions
What if I didn't get to meet your positive review policy in the Starter Account?
​You can come back at a later time to give it another try. We recommend taking at least 90 days to refine your gifts. When ready, give us a call and we will grant you a fresh start.
What are Job Extras?
It is an additional service added time to your existing job. For example add 15 minutes to the session for $25.
How do I become a Pro Healer?
Signup for a Free User Account (Here)
Complete our application (Here)

When approved for the Starter Account, pay $29.99

Perform at least 10 Donate-It Sessions

Get high ranking (at least 4.5/5 stars six sessions out of the ten) to qualify for Pro Membership 

After our review, pay the membership to become a Pro Healer on I Love Healers
Complete instructions are detailed in our How It Works page.
If you have any quesitons please Contact Us, we are happy to help.
How do I get my own group on Vort8x?
Every registered healer is given thier own personal group. Groups are set up by admin. If you have a recomndation for a group please let us know. 
How can I change my User Name?
If you recently signed up and want to change your user name we can do that by deleting your original registration so you can re-register with your new user name. Note that it you are already a Pro Healers, we cannot make that change.  
I would love to join but not sure to which website!
Our two websites "I Love Healers" and "Vort8x", are kinda merged together which means you can register on either webasite and your username, email and password will be the same for both.
The reason we have more than one domain on our platform is because of the uniqe functionality of every domain.
If you have any questions, please Contact Us.
I'm having trouble signing in
Problems with signing into your account are due to incorrect password, username or email. Please make sure Caps Lock is turned off (passwords are case sensitive) and check your spelling. If you are still having trouble, you can reset your password. If you have any questions, please Contact Us.
What is the protocol to connect for a session?
Log on to your Free User Account on I Love Healers.
Choose a category or type in the search box for your desired subject (Tarot cards reading, astrology etc.)
Checkout the available healers and pick one.
Communicate with the chosen healer using the contact form.
When ready, place the order by clicking on the Buy Now button (green) on the upper right hand side.
What do I need to do to hire a healer?
Sign up to a Free User account and confirm your email. (if you don't get your email please check your spam box).
Pick a session by using our categories or the search box on I Love Healers. When ready place the order.
How do you determined the quality of the advisors?
Every Healer/Advisor goes through our internal screaning process before they qulify for the first stage.
After that, you the user rank the healer when they perform (the donate it sessions) at 90% accuracy or better in six (6) sessions out of the first ten (10).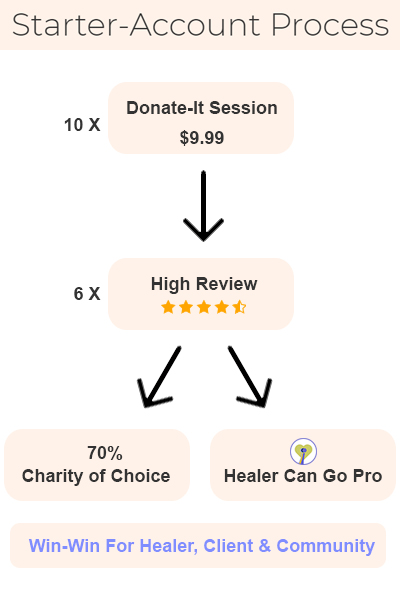 What is a buyer's special request?
How can I delete my profile?
To delete/remove your profiles and all its content from our platform simply contact us with your request. Please allow at least 1-2 business days.
Your Profile will be permanently deleted  from our system. If you chose to register again, you will have to start all over again as a new member.
What if I'm not satisfied with my session?
In case you are not satisfied with your session, we must be notified within 24 hours. We will review your complaint and if we find that it has merit, we will allow you to choose another professional instead. In a period of 90 days you can exchange once, and 3 times in total.