Unstoppable Foundation
We Are Empowering Lives Through Education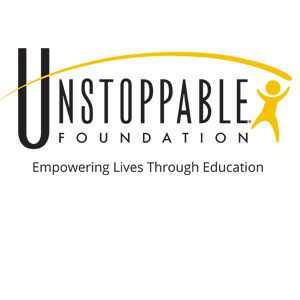 Status: Active
Member since: August 2019
The Unstoppable Foundation is a non-profit humanitarian organization that moves communities in developing countries from surviving to thriving so that every person can realize their full potential.
The Foundation takes a holistic approach to creating sustainable education by supporting community development through our Sponsor A Village (SAV) program, a proven 5-Pillar Development Model. SAV incorporates everything crucial to lifting communities out of poverty and removing obstacles to educating children by providing access to education, clean water and sanitation, healthcare, food and nutrition, and income training for parents.
To ensure students are able to gain employment in their community and increase the standard of living for themselves and their families, the Foundation awards full scholarships to qualifying graduates in the Maasai Mara region of Kenya. Recipients receive a state-of-the-art education that combines theoretical studies with technical training, placements, and internships. They also receive leadership and empowerment training, enabling them to achieve their full potential as leaders in their families, communities, and the world at large. This high level education is the final piece to providing a full circle solution to transform this region of the world.
100% of donations to the Unstoppable Foundation fund our international programs.
CLICK "VOTE", OUR SYSTEM WILL AUTOMATICALLY GAUGE YOUR STATE OF COMPASSION.
The objective is to find out how compassionate this organization is.
For the first 5 seconds, you will see your own result before it is combined into a collective-average.
Click once.
No Personal Information is Needed.
The Tool Detects Your Energy The Moment You "VOTE".
The more compassion the organization evokes in you, the higher they will rank.
Click here to learn how it works
What Customers Say - Written Testimonials
Customer reviews go here 
Customer reviews go here 
Customer reviews go here 
Customer reviews go here 
Unstoppable Foundation
P.O. Box 877
Agoura Hills, CA 91376-0877

Phone: 1-805-241-1730
Please Participate, Share Your Experience
at Unstoppable Foundation
Your submission will be reviewed before it is published. Should we have any questions we will contact you. We do not share your email or last name. We will publicly post your First name, City and the content or your experience details. If you have any questions please Contact Us.