Water Charity
Dedicated To Helping People Access Clean Drinking Water And Improved Sanitation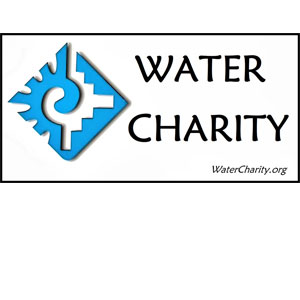 Status: Active
Member since: August 2019
Water Charity is a 501(c)(3) nonprofit dedicated to helping people access clean drinking water and improved sanitation. In 12 years, Water Charity has done approximately 5,000 water, sanitation and public health projects in 78 countries, benefiting more than 5 million people. We do wells, rainwater catchment, water filtration, and other direct interventions as well as provide training to people to solve their own water and hygiene needs.
CLICK "VOTE", OUR SYSTEM WILL AUTOMATICALLY GAUGE YOUR STATE OF COMPASSION.
The objective is to find out how compassionate this organization is.
For the first 5 seconds, you will see your own result before it is combined into a collective-average.
Click once.
No Personal Information is Needed.
The Tool Detects Your Energy The Moment You "VOTE".
The more compassion the organization evokes in you, the higher they will rank.
Click here to learn how it works
What Customers Say - Written Testimonials
Customer reviews go here 
Customer reviews go here 
Customer reviews go here 
Customer reviews go here 
Mission
To provide clean drinking water and effective sanitation to people who have no access, and to help end the World Water Crisis.
Values
A) Effectiveness – We care about helping people first and foremost. The more people we can aid with water the better.
B) Efficiency – We despise the waste and inefficiency that is so rampant in the charity/philanthropic world. We go above and beyond to make sure that we are getting the most bang for the buck… often we are 20x as efficient as our colleagues.
C) Sustainability – We want to make sure our projects have lasting impact. So many charities come in and do an intervention and then leave… never following up on the work. We build sustainability into all of our projects. Often this means using low tech and traditional solutions rather than hyping some new inventions that can not be maintained. The goal is to help people be self-sufficient, not get them dependent on some expensive solution they can not repair when it inevitably breaks down.
We use a variety of methods and solutions… tailored to the specific needs and realities of a given location and the people being served. From rainwater catchment to boreholes, from water filtration to irrigation… sanitation facilities, bringing clean, running water to health clinics, etc. all our projects, programs and initiatives are unique and suited to the problems that exist in that community. Go to our website for more detailed information: https://watercharity.org Every project has its own page, so you can look through more than 5000 pages of details if you are really interested.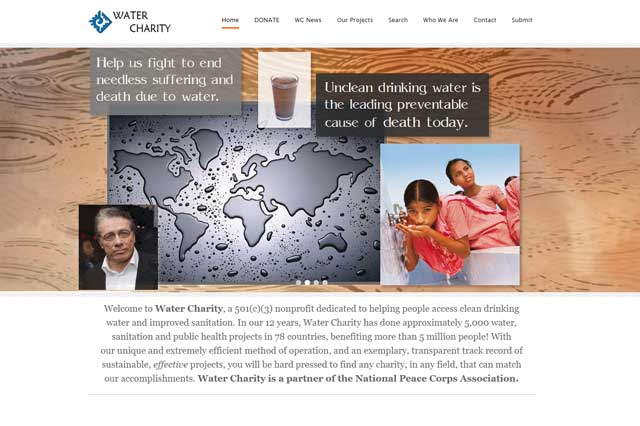 We provide clean drinking water and effective sanitation to people who have no access around the world.
This program involves well rehabs and filter installations throughout the county of Grand Cape Mount. 
Approximately 7,000 people will directly benefit from this project if you count all the children, teachers, workers and guests to the schools.
The project aims at a coordinated approach to the use of BioSand Water Filters in addressing the need for clean water and reduction of waterborne illnesses in Bukavu.
This project is to build a lasting solar water pump & water storage solution in partnership with our friends at Wine To Water.

Jah۞Sun - CEO
Co-founder and Chief Executive Officer
He is a noted, world-touring, international DJ, producer, and musician… as well as a writer, futurist, humanitarian, and more.  Jah۞Sun has been active in a large number of causes over the years, bringing to WC his laser focus on actually helping people, efficiency, and getting things done in a sustainable manner. His decades of experience in entertainment cemented his dislike of superficial glitz, photo ops, galas, and the myriad ways other charities manage to spend a ton of money without really doing much for the people they claim to serve.
Jah۞Sun is also proficient in design, video production and graphic art.  He designed our logo based on a Tolted symbol of man's dependence on water which is also related to the Mayan Hunab Ku, and he also designed this website.

Beverly Rouse
ED, President
With more than three decades of experience in the nonprofit sector, Beverly Rouse brings her extensive experience in fund raising, operations and executive management to the Water Charity administration. Her background includes nonprofit support to advance health science, engineering, horticulture and hospitality. She comes to us from her position as ED of the nonprofit Cancer Support Community of Pasadena.
Beverly earned her Bachelor of Arts Degree from Colorado State University and her Masters of Business Administration from California State University Pomona.

Averill Strasser
Secretary/Treasurer, COO
Averill is co-founder and Chief Operating Officer of Water Charity. He has vast experience as an attorney, engineer, businessman, and nonprofit executive.
Averill received a JD degree in Law from UWLA, and a BS in Mechanical Engineering and an MS in Systems Engineering from UCLA.  He worked as a lawyer in Beverly Hills for many years, before embarking on a new career as a businessman and philanthropist.
While serving as a Peace Corps Volunteer in Bolivia ('66-'68) he worked as Professor of Engineering at the University of San Andres in La Paz.

Jacqueline Chan
DrPH. – Advisor
Dr. Chan was the original ED of Water Charity, and now serves as an Advisor.
She received her Doctor of Public Health degree and served on the faculty at Loma Linda University, and currently serves as Adjunct Professor at that institution. Her emphasis has been on preventive care, which is the lifestyle management of disease, and epidemiology.
Her primary interest has been in the various aspects of water. She conducted the seminal research into the relationship of water and fluids other than water on the risk of fatal and non-fatal heart disease, stroke and total mortality.
Water Charity
P.O. Box 368
Crestline, CA 92325-0368

Phone: 1 929 27 WATER
Please Participate, Share Your Experience
at Water Charity
Your submission will be reviewed before it is published. Should we have any questions we will contact you. We do not share your email or last name. We will publicly post your First name, City and the content or your experience details. If you have any questions please Contact Us.