Increase The Immune Of Those In Need Round 2 – Wednesday
April 8th Sunrise to Sunset
Wednesday is when we dedicate time to offer healing to those we lovingly choose.
Heal family, friends and others who need assistance in healing from the "Covid-19" illness.
Pray for divine guidance for world leaders to make the best decisions for citizens & our planet.
Vote Your Compassion below, every vote counts.
Why?
Because we are family, and family assists one another in times of need.
Unity is powerful stuff, so why not join hearts and minds for a benevolent outcome?
This is an invitation to compassionately act towards those you know personally, and towards those you don't know.
How?
Unconditional and pure intent, without any judgment. Make space and offer your love and compassion.
Together with the incredible combined intent, love and compassion we can assist in profound ways.
You are invited to submit a name using the submission form. We will publicly add the person's name on this page for everyone to see and assist. ( Your name will also be published along with your country of residence. Your email will not be shared)
We also add a list of names and affirmations because we believe there are some in need of our collective assistance, using our unconditional love and compassion.
When?
Date – Wednesday, April 8th 2020.
Time – Sunrise to Sunset
For as long as you want.
Starting at sunrise at your local time Wednesday morning until sunset. Dedicate the time at your own convenience to perform the prayers, healing energy, meditation, dance or any other beautiful healing modality you are gifted with.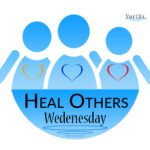 Vote Your Compassion Below, Every Vote Counts.
Let's Be The Love We Want To See In The World
Where?
Who can join?
I'm not a healer, how can I help?
In our "book", each and every one of you has the power to facilitate healing within yourself and in others. Choose a method that is close to your heart, and go for it.
Pray, meditate, sing, dance…. all are a form of energy movers.
Your pure intent is key!
Have a ceremony with candles and crystals or lovingly sit under a tree with compassionate thoughts and feelings.
You are part of the whole and the whole is part of you.
Together with focused-intent we are profoundly powerful.
or Facebook
Names Of Those For April 8th Healing
By Staff:
World leaders, local government leaders and business leaders: "We send divine love and compassion to assist you in making the decisions that will be for the highest good of all people and our planet."
All our brothers and sisters around the world who are ill as a result of the the "coronav": "We send you unconditional love and compassion to assist you in healing quickly and completely from the illness"
————————
March 16th:
The time is now for all starseeds to rise above the coronavirus and dissolve it with a mass-meditation consisting of new vibrational upgrades we have been and are continuing to receive. WE ARE ONE HUGE FORCE OF UNCONDITIONAL LOVE AND LIGHT and TOGETHER, WE CAN AND WILL EXTINGUISH THE DARK ENERGY from GAIA.
Your Name: Robert Mackie
Country You Reside: United States
Name To Include: ALL LIGHTWORKERS and Myself.
Please read and agree before submitting your request: I understand that all names and country will be public domain
————————
Add yours using the form on this page.
Add a name to the April 8th Healing List
CLICK "VOTE", OUR SYSTEM WILL AUTOMATICALLY GAUGE YOUR STATE OF COMPASSION.
The objective is to find out how compassionate this healing event is. 
For the first 5 seconds, you will see your own result before it is combined into a collective-average.
Click once.
No Personal Information is Needed.
The Tool Detects Your Energy The Moment You "VOTE".
The more compassion the subject evokes in you, the higher they will rank.
Click here to learn how it works
Our goal is to promote compassionate actions in world communities. We offer the Compassion Gauge Tool on specific pages with the intent to inspire people and organizations to meld compassion into their mission and values.
The more compassion the subject evokes in you, the higher the results.
Eddie BenAbraham
President and co-founder
What If I Get Zero?
 Does NOT mean you are not a compassionate person!
Compassion is a state-of-being just like love, anger or joy and for each state, there are different levels of experience.  
Compassion – Marketing For A New Era – What Will You Choose?
Compassion measurement tool, Compassion measurement, Self compassion measure, Measuring compassion, Levels of compassion, How to measure compassion
Your contribution is highly appreciated.
Your generosity will assist in our continued development of the Compassion Tool and community effort worldwide to make our planet healthier and happier to live in.